Anatomy of a laptop
Custom Search
In the previous section I stressed the need to know the anatomy of a laptop. While one doesn't need to know the complete details of all the parts that go to build a notebook, it helps to know more. The following are the key features of a notebook about which one must have some basic knowledge of. These have a direct bearing on how you interact with the notebook and the results or the experience you get out of it.
For example, looking at the screen one may think of its size and say how big (18″ diagonally) or how small (10″ diagonally). But knowledge of other screen specifications like what resolutions (1920X1200 vs 1024 x 600) it can support or what technology(CCFL or LED) is used behind, to illuminate the screen; would help to get a better experience out of the laptop.
Graphic Controller
Keyboard and pointing device
Optical and other drives
Weight and bay design
Communication ports
As one can see from the picture above, only the screen, keyboard and pointing device, communication ports, optical drive, camera are the features that the user can touch, feel and see while working with the notebook.
The battery though visible (close the laptop and turn it over to see the bottom) as shown below, it is not something that we interact with while working. Mobility is a prime characteristic of a laptop and battery plays a major part in it. Imagine, looking for a looking for a wall socket to connect to, at the airport lounge because your battery is down and you have important messages to check before your flight. So it pays to look closely at the specifications of the battery that comes with the laptop and to know if it is possible to order higher capacity battery with the laptop instead of the standard that comes with it.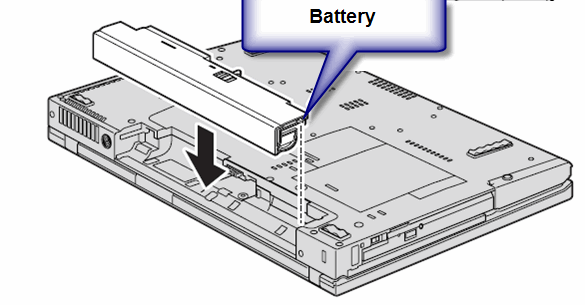 | | |
| --- | --- |
| | However it helps to know the communication ports of your notebook as they extend the capabilities of the laptop. The ports/features marked on a laptop on the left are the typical communication ports and features that we would be physically interacting with and in a laptop. |
| | |
| --- | --- |
| As for the rest, like processor, system memory, hard drive etc while not visible but work silently behind; to deliver the results desired. Just for completion of this discussion a blown up diagram of a laptop is shown on the left and you could see that the processor, system board, system memory, hard drive etc. are safely encased within the shell and are out of sight. While you may not come into physical contact with these components for everyday use, a careful selection of these in the notebook is a must for the optimum performance. | |
<- Prev: Need to know the anatomy of a laptop
Next: Relevant details of processor, memory, hard drive ->

Custom Search